Neil Patel: The real life Mister Fantastic
When you tak about blogging, you talk about Neil Patel…
Have you seen this guy? He is more famous on the internet than any Hollywood celebrity(probably, saying it just to make a point, do not start gathering data to counter this).
Meet Neil Patel, one of the top influencers on the web, one of the top 100 entrepreneurs under the age of 30, and what not.
He is the co-founder of big names like Hello Bar, Crazy Egg, and KISSmetrics. He has helped big companies like HP, Amazon, GM and a lot of others in growing their revenue.

Born on April 24, 1985, in London, England, from the very beginning, he had entrepreneurship in his heart. He had a business-like environment at home, which helped him accelerate his growth towards which he is today. His uncles had multiple businesses so he got a lot of help from there.
— Neil Patel (@neilpatel) March 12, 2017
Neil began his career life at the 'John F. Kennedy High School', where he had a cousin selling burned CDs, he chose not to sell CDs though
He opted to sell black boxes, switching to selling automotive parts later on and cleaning restrooms, emptying trash cans, sweeping up vomit and picking up trash at Knott's Berry Farm.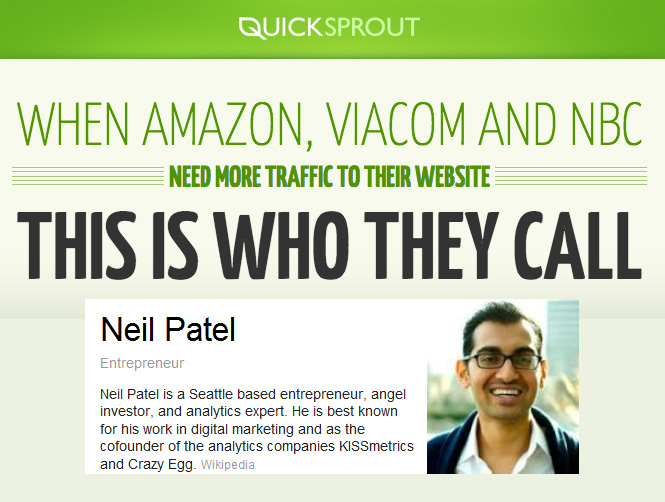 After this not so revenue-generating job, he shifted to a sales job.
Following that, his sister introduced him to an ORACLE consultant, wherein he launched Advice Monkey.
---
---
Advice Monkey, unfortunately, did not reach any considerable success, still making Neil realize the real potential of internet marketing.
Thus, to achieve success in this field, he joined Cypress Community College to learn about Digital Marketing, where he got his first lead. 
He, along with his sister's boyfriend(then), started Crazy Egg, which turned out to be a huge hit.

image source: witty sparks
Failing a lot of times to sell it, he started working on it and built quite a name in the internet market, which paved the way to the present day, when young enthusiasts like me idolize him and make articles about him.
Today, he owns several amazing software and internet marketing firms,  the popular KISSmetrics being one of them, and has invested in multiple businesses.
He helps various firms and individuals grow their business, and is a very charitable man.
He truly is the benchmark for all of us, for it was never easy for him as well, but he made it, and he for sure made it big.

image source:SlideShare
Summary
Name
Nickname
Website
Job Title
Co-Founder at Crazy Egg & Hello Bar